COMPANY
INFORMATION
ABC Box Co. offers a full range of products and services to suit your every packaging need. We have the ability to custom design and prototype packaging for any product large or small, fragile or valuable. In addition to our ability to prototype packaging, we can design your printing or work with existing artwork to make your container look just right.
Our high-speed Flexo, presses and die-cutting equipment ensure that your order, whether a few pieces or thousands, will be ready in a timely manner.
ABC Box Co. prides itself in providing an exceptional product in the quickest amount of time. Contact us today so we can get you on your way to shipping, displaying or presenting your product!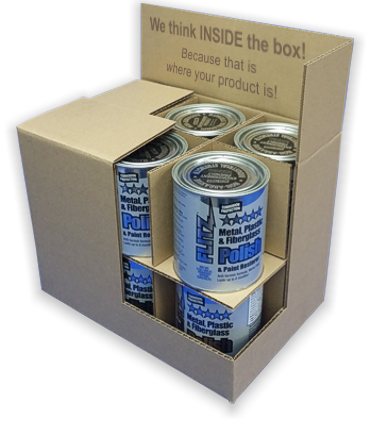 FAMILY OWNED AND OPERATED FOR 30 YEARS
A BRIEF HISTORY
ABC Box Co., Inc. is a family owned business that was established by Harry and Tamara Frey. Together they have both been in the corrugated industry for over 45 years.
ABC Box was established in January 1986 in a garage in Greendale, Wisconsin with just 3 employees. Quickly expanding, the company outgrew the garage and moved to a 1,300 square foot location in Milwaukee. Again, 6 months later, they outgrew their location and had to expand to 5,000 square feet. In this time frame they also hired 3 more employees.
By 1988 the business was flourishing and once more ABC Box had to move to a larger location. This time to a 22,000 square foot facility in Milwaukee and hired on an additional 9 employees bringing them up to 15. The businesses rapid expansion continued and in 1992 the business once again had to upgrade to a larger location. This time they purchased a 50,000 square foot facility in Brookfield, Wisconsin.
This new and much larger facility afforded the company many new opportunities. The larger building allowed for expanding product lines, more space for keeping stock and custom items available and also allowed the company to hire on even more employees. Another brand new feature for the company is their public showroom.
The products, services and customer base continued to expand and by 1998 an addition to the building was required. This expansion included a 36,000 square foot addition as well as a piece of state-of-the-art equipment, the Flexo press. The Flexo allowed for unheard of production capabilities for the company, producing beyond 10,000 boxes per hour.
Through quality products, services and customer satisfaction, ABC Box Co. has established itself as a well known and highly rated producer of packaging and packaging supplies. Our customers consistently comment positively about our quality products, quick lead times, unique services and helpful staff.